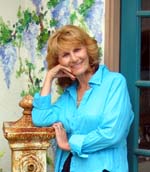 Mirella Z. Olson moved to California from her native Verona, Italy and first came to Santa Barbara in 1977. She has a degree in Interior Design. Her interest in art dates back to her childhood. She is an impressionist plein air painter and she enjoys the challenge of a wide variety of subjects inspired by her travels and many interests.
Mirella has received numerous awards for her watercolors and her oils in the US and abroad. Her work can be seen in various galleries and in private collections around the world.
Mirella has been juried into the Societá delle Belle Arti in Verona, Italy, the Santa Barbara Art Association, Gallery Los Olivos, Goleta Valley Art Association, SCAPE (Southern California Artists Painting for the Environment), Art Guild of Santa Ynez Valley, Los Padres Watercolor Society, and Morongo Valley Art Colony.
Among her numerous expositions to highlight are:
Santa Barbara Sunday Arts and Crafts Show, Cabrillo Blvd, ongoing since 1995
Gallery Los Olivos, ongoing since 2000 (www.gallerylosolivos.com)
Art Along The Creek, Memorial Day weekend, Santa Barbara
Artwalk, Santa Barbara Museum of Natural History
Elverhoy Museum, Solvang
 Featured Artist, West of Eden, Solvang
Santa Barbara Festival of Art and Jazz
Christmas Show, Arena, Verona Italy
Antiques and Art Show, Cerea, Italy
Featured Artist, Faulkner Gallery, Santa Barbara
Featured Artist, Maritime Museum, Santa Barbara
Featured Artist, Cabrillo Marine Aquarium, San Pedro
Fine Art Santa Barbara
Old Mission Fourth of July Art Show, Santa Barbara
Morongo Valley Art Colony, Covington Park, Morongo Valley
"Best of the Best", Lompoc
Featured Artist, Gallery 113, Santa Barbara
Featured Artist, Townley Room, Santa Barbara
Santa Barbara City College Group Show
Semana Nautica, Santa Barbara
National Hotel, Nevada City, California
Various other venues: libraries, banks, restaurants, post offices, boutiques, variety shops.